Services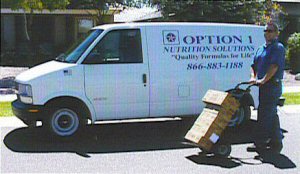 OPTION 1 Nutrition is committed to the care and well being of our patients. We are dedicated to providing appropriate, cost-effective care to patients in collaboration with medical professionals, caregivers and managed care organizations.
We offer products and services to ensure modern, comprehensive care including:
Enteral Formulas and Nutritional Supplements
Enteral pumps and ancillary supplies
24/7/365 Service and support by our Skilled Technicians
We carry products from every vendor representing the needs of today's Enteral Patient: Abbott Labs, Nestle, Nutricia, Medical Nutrition USA, Mead Johnson and many more.
Our staff provides expert instruction to help patients function comfortably at home.
Our knowledge about reimbursement procedures takes the hassle of billing off patients' hands.
We carry home medical equipment and accessories needed to provide adequate nutritional feedings. We offer the convenience of home delivery, and every order is delivered by a trained technician who assembles the equipment (if necessary) and provides thorough operating instructions.